Dija Ayodele
Renowned Aesthetician, Speaker & Columnist
Dija is a highly respected Aesthetician and founder of two times Aesthetic Award winning and Vogue beauty finalist Black Skin Directory; founded in 2018 as a means to better connect people of colour to professional skincare in all of its facets.
---
About Dija
Skincare Expert and Aesthetician, Dija Ayodele is author of the newly published Black Skin, The Definitive Skincare Guide, owner of skincare clinic West Room Aesthetics in London and founder of the multi award-winning educational platform Black Skin Directory (BSD). With over 10 years experience in understanding and treating skin health, she has become a pivotal champion and advocate for providing the tools for people of colour to be educated on their unique skincare needs whilst pushing the beauty industry forward in its requirements to serve this sector.
Her clinic is a go-to destination, especially for Black women seeking skin rejuvenation treatments and advice for their skincare needs. She is a GLAMOUR Magazine columnist, Trustee of the Beauty Backed Trust and Advisory Board Member to the British Beauty Council, British Association of Beauty Therapy & Cosmetology (BABTAC) and Aesthetic Medicine Journal. Dija is an experienced public speaker at both industry and consumer events and has taken the stage at the House of Commons, Stylist Live, Cosmoprof and Refinery29. She also works with a host of respected brands within the beauty and cosmeceutical industries as a consultant and Key Opinion Leader (KOL).
---
PR, Media and Professional Booking Enquires for Dija Ayodele:

enquiries@bevjames.com
---
What's New?
October 2022
Celebrating 150 years of Shiseido! Last night Caroline Hirons and Dija Ayodele hosted 'Skincare Stories', a panel discussion at the House of Shiseido Pop-Up Store in Covent Garden.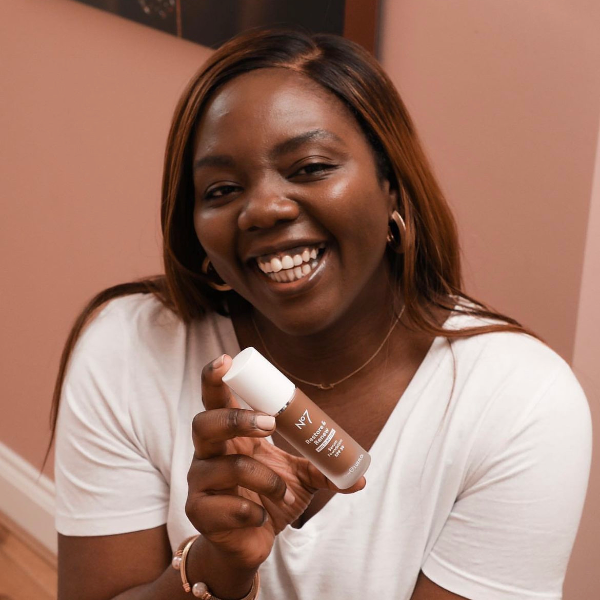 March 2022
Skincare expert Dija Ayodele is partnering with No7 to showcase the new Restore & Renew Serum Foundation
February 2022
The amazing Dija Ayodele continues her role as a No7 skin expert!
December 2021
To celebrate the publication of her new book, Dija Ayodele sat down with Jourdan Dunn to discuss all things 'Black Skin'.
November 2021
Happy Publication Day Dija Ayodele!! 'Black Skin' is out now!
November 2021
A Night In with Dija Ayodele being interviewed by Caroline Hirons
September 2021
We are excited to reveal Dija Ayodele's cover for Black Skin - The definitive skincare guide. The book is available to preorder now.
July 2021
We are delighted to announce Dija's debut book 'Black Skin - The Definitive Skincare Guide' which will be published on 25th November 2021. Congratulations Dija!
March 2021
Dija's Westroom Aesthetics has been included in The Style Magazine's Big Beauty Address Book - as Best for High-Tech Facials - well done!
October 2020
Congratulations to Dija who has just become a signed author with Harper Collins with her debut book set for release spring 2022.
Privacy Policy | © Copyright – Bev James Management 2020. All rights reserved.